In Skein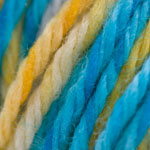 Close-Up
HypnoMonkey is a hand-dyed DK weight 100% merino wool yarn with a twist. One of the 4 plys takes on more dye than the others resulting in a mesmerizing spiral stripe within the yarn. When knitted up this makes for great visual texture. Sold in 100g (apx. 245 yards) skeins.
As with all our hand painted products, each colorway is unique and considered a Special Edition. We do not record or reproduce our colorways. This keeps the yarn new and exciting, and all the more precious.
---
Use and Care
HypnoMonkey is a plain merino wool, and will felt if agitated in hot water. Gently wash by hand in cold water and very mild detergent. Lay flat to dry.
Hand wash, cold water
Dry flat